School Kitchen
Watlington School Kitchen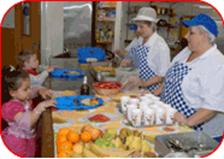 Watlington School is very lucky to have its own kitchen, where meals are cooked fresh daily by our fabulous cooks Mrs Carter and Mrs Tiffin.
We have a three week menu. You will be given a copy to take home or click on www.norsecatering.co.uk. for more information. This is also the website that you can click on if you have a specific dietary requirement that needs catering for.
You are always welcome, so why not come and try our lunch, and if you like it, why not tell your friends about it?